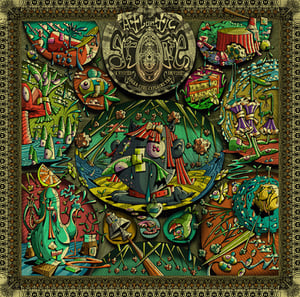 $

18.00
Far from creating a nostalgic tribute to a previous age, Atlantic Drone contributes to a re-definition of the sonic trip a sound that is both exhilarating and "Zenful"; serving up an atom to the melting molecular soup of Post Psychedelic Hypno Mantras that point more to the future than the past.
Lush, tumbling & potently acidic space trips featuring Steven Cerio with members and contributors from: Railroad Jerk, Dee Dee Ramone's Sproket, Bongwater, Yo La Tengo, Devendra Banhart, Dust Devils, Drunktank, Wicked King Wicker, Arthur Lee, King Missile, Electric Frankenstein, His Name is Alive, Uncle Wiggily, Bunny Brains, Dragibus and Toothfairy.
This first release by Circadia Records is an edition of 500 (250 white and 250 black) on 180g vinyl. Each record also includes a signed and numbered, 11" x 11", 3 color screen print and comes in a heavy weight, clear vinyl outer sleeve.